Este contenido sólo está disponible en inglés.
Contribute to research
Health research projects can gain important insights from using your health data provided to the Smart4Health research plattform. On this way you can contribute to research. To ensure data security each research project is reviewed and approved beforehand.
Health research aims to understand
how diseases develop over time,

how diseases and conditions can be prevented and detected, and

how treatment and care can be improved.
What is Health research?
We use the term health research to mean all "health, medical, and biomedical research", that aims to improve the health of citizens in everyday life, the treatment and prevention of disease by health professionals, and the understanding of disease mechanisms.
Download the MyScience App
You can download the MyScience App here. With it you can provide your health data from the Smart4Health platform in anonymised or pseudonymised form to the Smart4Health Research Platform.
Information to Researchers
You can learn about the Smart4Health Research Platform and data access conditions from the researchers perspective .
 What are the steps needed to provide your health data to research?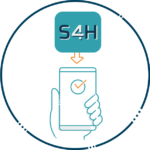 You download the MyScience App from the Google Play Store.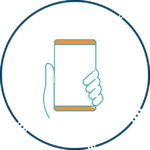 Within the MyScience App you will go through the following steps.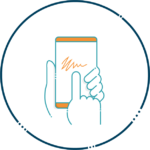 ① You read through the consent form and sign it.
② You sign into your Smart4Health account and connect the MyScience App.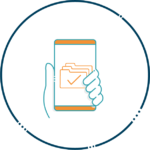 ③ In addition to the core data set, you can select additional data from your Smart4Health account to be provided to the Research Platform.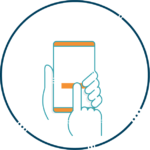 ④ You confirm the data provision of the core data set and the potentially selected optional data before it is uploaded.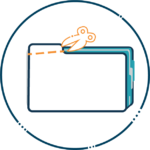 ⑤ We remove identifying information from your data.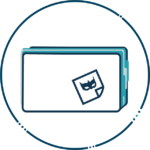 ⑥ The MyScience App adds a code to your data.
⑦ The code is stored only in your MyScience App.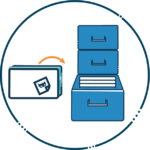 ⑧ We store the coded data in the Research Platform.
Step-by-step
After signing this informed consent form (1), you will be able to select which data from your collection on the Smart4Health platform you want to provide to the research platform (3). Please be aware that in order for researchers to be able to use your health data for research, the provision of a core set of data is required (see question 2 below). To provide your data, you need to be signed into your personal account on the Smart4Health platform (2). Finally, you can confirm the data provision before your data is uploaded (4).
All personal information directly identifying you (name, date of birth, address, any other related information) will be removed from the selected data or generalized (5) and your platform-internal identification number is replaced by a code (6) (see box below). The code is safely stored within the MyScience App on your smartphone, therefore the code linking to your person remains with you. With this process in place, the health data provided for health research cannot be traced back to you without exceedingly disproportionate technical effort (see point 1.9 on risks and their minimization) (7). After all the information directly identifying you has been removed or generalized and replaced by a code, the data you are ready to provide for research are transferred to the Smart4Health research platform and stored there (8). At the end of this process, you will receive a notification of the successful data provision.
Providing your health data for research is voluntary
 If you do not wish to provide data for research, or wish to withdraw your consent later, it will not affect the medical care you receive or your ability to use your Smart4Health account and its other services.
After downloading the MyScience App, but before any health data is provided to research, you will be guided through an informed consent process in the MyScience App.
MyScience App

Click the button below to download the MyScience App. With it you can provide your health data from the Smart4Health platform in anonymised or pseudonymised form to the Smart4Health Research Platform.